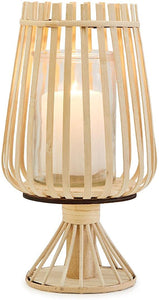 We are currently offering local pickup and local delivery ONLY. If you would like to inquire about shipping outside of the Baltimore area, please contact us at 410-532-7000 or info@antique-exchange.com.
Two's Company
Windlight Lantern
Windlight Hand-Crafted Pedestal Lantern with Glass Holder (indoor use recommended/minor imperfections and variations are natural characteristic of material and hand-crafted origin) - Bamboo/Rattan/Glass
Dimensions:12 3/4" H x 7"  glass holder; 6" H x 3 3/4"